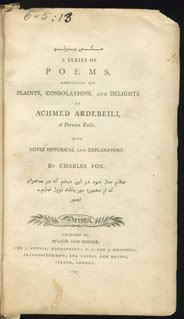 Author Name Fox, Charles (1749-1809).
Title A Series of Poems Containing the Plaints, Consolations, and Delights of Achmed Ardebeili, A Persian Exile. With Notes Historical and Explanatory.
Binding Hard Cover
Book Condition Fair
Size 8vo - over 7¾" - 9¾" tall
Publisher London Bulgin and Rosser for J. Cottle, G.C. And J. Robinson, and Cadell and Davies. 1797
Seller ID 000185
[Persia] [Ahmad Ardabili] [Fox's Persian Poems]. Approximately 8 3/8" x 5 1/4". [6], [i] ii-xl, 276 pp. Title also given in Persian. Marbled boards. Leather spine with five narrow gilt (very faded) bands. Boards heavily worn. Corners may have been leather at one time. Boards taped across spine with three pieces of cloth tape; two pieces remain. Front board with title page detached. Rear board attached only to tape. Last page detached. Inner margin of last page still attached to rear board; therefore last page is narrowed by approximately 5/8" with no loss of text. Writing on title page and rear pastedown. Pages are age toned. Top corners of first eight pages chipped with no loss of text. Small tears (1/4" or less) to top edge of last few pages. Pages have a small amount of staining and foxing. Contains a list of subscribers including Mr. S.T. Coleridge and Mr. Robert Southey. Charles Fox, an English portrait and landscape painter, was also an Oriental scholar (Pilkington, 1829). He was born in Falmouth in 1749 and died in Bath in 1809. Clarke (1833) surmises that it is possible that the Plaints and Consolations were actually written by Fox. References: Clarke, Adam. 1833. An Account of the Infancy, Religious, and Literary Life of Adam Clarke: Written by one who was intimately acquainted with him from his boyhood to the sixtieth year of his age. B. Waugh and T. Mason. Pilkington, Matthew. 1829. A General Dictionary of Painters; Containing Memoirs of the Lives and Works of the Most Eminent Profesors of the Art of Painting from Its Revival by Cimabue in the Year 1250 to the Present Time. Thomas Tegg.
Price = 124.99 USD