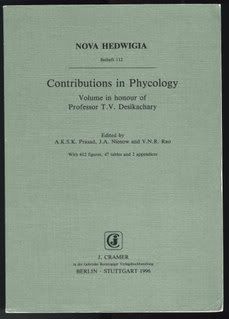 Author Name Prasad, A.K.S.K.; Nienow, J.A.; And Rao, V.N.R. (Edited by).
Title Contributions in Phycology. Volume in Honour of Professor T.V. Desikachary. Nova Hedwigia. Beiheft 112.
Binding Wraps
Book Condition Good
Size 8vo - over 7¾" - 9¾" tall
Publisher Berlin J. Cramer 1996
Seller ID 000199
552 pages. Black-and-white illustrations and photomicrographs. Softcover is worn at edges and corners. Small tear (1/2") at head of spine. Black marker on fore edge. Pages are clean and unmarked. Contents include: Silva - Stability versus rigidity in botanical nomenclature. Lewin & Newman - Species concepts: a conciliatory note. Schopf, Castenholz, Komarek, Montejano, Reeves, Meyer, Rosowski, and more - nine articles on Cyanophyta/Cyanobacteria. Brodie, Hommersand, Wynne, and more - six articles on Rhodophyta. Round, Gordon, Medlin, Kooistra, Rao, Prasa, Mann, and others - fifteen articles on Bacillariophyceae. Kristiansen, Wujek - two articles on Chrysophyceae. Prema - Dictyochophyceae. Santos - Eustigmatophyceae. Tseng - Phaeophyceae. Steidinger, Dodge, Srinivasan, Faust - four articles on Dinophyceae. Marin, Hoef-Emden, Melkonian, Coleman, Nozaka, Aizawa, Watanabe, Wujek, and more - six articles on Chlorophyta. Chellappa, Amorim, Dawes, Nienow, and more - three articles on Ecology.
Price = 99.99 USD