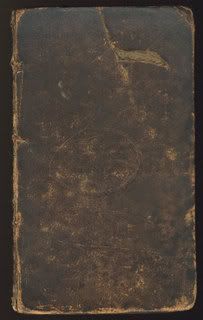 Author Name The Author of "Lessons for Young Persons in Humble Life." [Thomas Beddoes]
Title A Friendly Gift for Servants and Apprentices: Containing Character of a good and faithful servant; Advice to servants of every denomination; Letter from an uncle to his nephew, on taking him apprentice; and Anecdotes of good and faithful Servants.
Binding Leather
Book Condition Fair
Size 12mo - over 6¾" - 7¾" tall
Publisher London C. and J. Rivington, Booksellers to the Society for Promoting Christian Knowledge 1823
Seller ID 000375
This book measures approximately 7 1/8" x 4" and contains 47 pages. Written on the rear free endpaper: 1825 Mary Hallam Married Henson. Hannah Henson Married? Marshall. Jane Marshall Married Allsebrook. Hannah Mary Allsebrook Married ??? (Coufe? Coupe?) Who is now fifty one year. 1925. (On the rear pastedown: Mary Hallam On Leaving School April 10, 1825 and several numbers.) Written on the front pastedown: East Lake Church Sunday School. A Present to Mary Hallam on leaving School April 10, 1825. (There are many numbers and a previous owner's name on the front free endpaper.) The brown leather of this book is very stiff, worn, and chipped, with pieces missing from the front, the corners, and the top of the spine. The boards are bowed. Blindstamped on the front is Society for Promoting Christian Knowledge. The hinges are cracked. The edges of the pages are browned. Underlining and writing on the verso of the title page and the facing page. Some of the pages are stained, chipped, and have small tears. None of these defects affect the legibility of the text. "On dress, company, and amusements. For your own sakes, as well as to enable you to be good servants, carefully avoid all loose, idle company; alehouses, taprooms, dramshops, and every temptation to drunkenness; cardplaying, adventuring in lotteries, and all kinds of gaming. Beware of giving way to the love of dress, of company, and of amusement....Let your dress be neat and clean. Never be seen ragged, nor even with the smallest hole in any part of your dress....Spend your leisure time in an innocent, prudent manner. If any good books ere given to you at school, or by any of your kind friends before you went to service, take them with you...". "If you have been well brought up, and have a good character, you will seldom be at a loss to find proper places, in your own neighbourhood....Do not got to London, or any other large city, in search of a place, unless you have kind and reputable friends there, with whom you can prudently stay, till you meet with a proper situation. No safe and profitable places are to be met with, in London, or any where else, without proper recommendations, and the assistance of friends. --In all large cities, especially in London, there are so many snares and temptations, and so much wickedness, that, unless young persons can meet with very excellent situations, or have very good and prudent friends there, they are much better in places in the country." ""On religious duties. Regularly attend public worship whenever you have an opportunity, twice every Sunday, with seriousness and reverence....Diligently read the Bible. Learn by heart, and treasure up in your memory, the texts in Scripture, especially the following, which teach a servant's duty;...."
SPCK Society for Promoting Christian Knowledge
Price = 74.99 USD