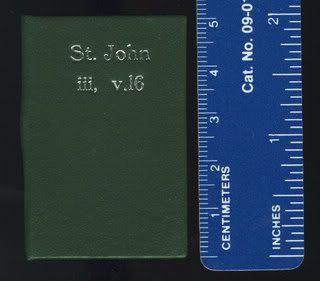 Title St. John iii, v.16. In Some of the Languages and Dialects to Which the British & Foreign Bible Society Has Printed or Circulated the Holy Scripture.
Binding Leather
Book Condition Fine
Size 64mo - up to 3" tall
Publisher Paisley, Scotland The Gleniffer Press 1983
Seller ID 000974
In 267 examples. 69 pages. Marbled endpapers. Green leather with gilt title, in fine condition in a plastic presentation box. Pages are clean and bright. Small thread page marker. Measures approximately 2" x 1 5/16". This is number 267 of an edition of 500 copies.
Price = 150.00 USD