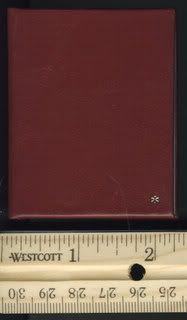 Title An A to Z of Flora.
Binding Leather
Book Condition Very Good
Size 64mo - up to 3" tall
Publisher The Final Score
Illustrator Byrne, Marian
Seller ID 000981
[The Final Score] [Byrne, Stephen] Illustrated by Marian Byrne. An A to Z of Flora. No date. (Huddersfield, West Yorkshire, England) (The Final Score). 64mo. Binding measures approximately 2 3/4" x 2 1/48". Unpaginated. Crimson Leather. Color illustrations. This is #11 of 15 copies. Minor shelf wear. Signed by Marian Byrne on colophon page. Color illustrations of the following: Anemone, Bramble, Cowslip, Daisy, Elder, Forget-me-not, Grass pea, Harebell, Iris, Jack-by-the-hedge, Kingcup, Lady's Smock, Maiden Pink, Nightshade, Orchid, Primrose, Queen Anne's Lace, Rose, Scabius, Thrift, Ulex, Violet, Wisteria, Xeranthemum, Yarrow, and Zinnia. Rare.
Price = 500.00 USD